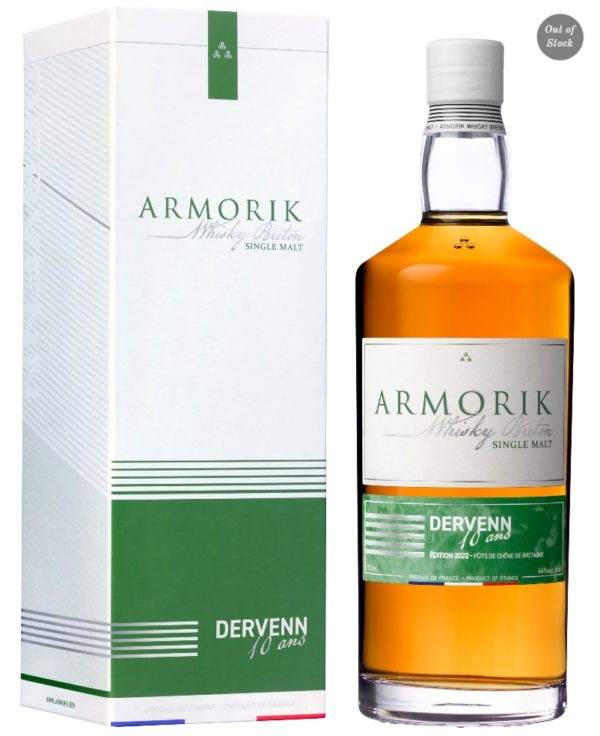 Armorik Dervenn 10 ans
46% – 70cl
Maturation : 10 years in new breton oak casks
Availability : Limited edition – 2000 bottles
"Dervenn" means oak in Breton language. The distillery has been innovating for 20 years in collaboration with Jean-Baptiste Le Floc'h, the last Breton cooper, and the ONF (National Forestry Commission) to make oak casks from our beautiful Breton forests where some of our whiskies are matured in every year.
For this Armorik Dervenn, we have selected these unique casks to reflect the quintessence of the Breton terroir. It develops subtle woody and spicy aromas, magnifying the rich and fruity distillate of Armorik.
After a few years of absence, Armorik Dervenn is back in a 10 years version, limited to 2000 bottles in 2022.
NOSE
Powerful, complex, a combination of honeyed pastries and passion fruit. Some empyreumatic notes of leather and caramelized sugar, accompanied by cinnamon.
PALATE
The richness of the nose is reflected in the mouth. The attack is honeyed with an exacerbated sweetness. We find then the empyreumatic notes, which evolve on the liquorice, the figs, in an exceptional volume.
FINISH

Very long. Spicy, it reveals the smoky side of the product which joins the fruity side of the distillate.