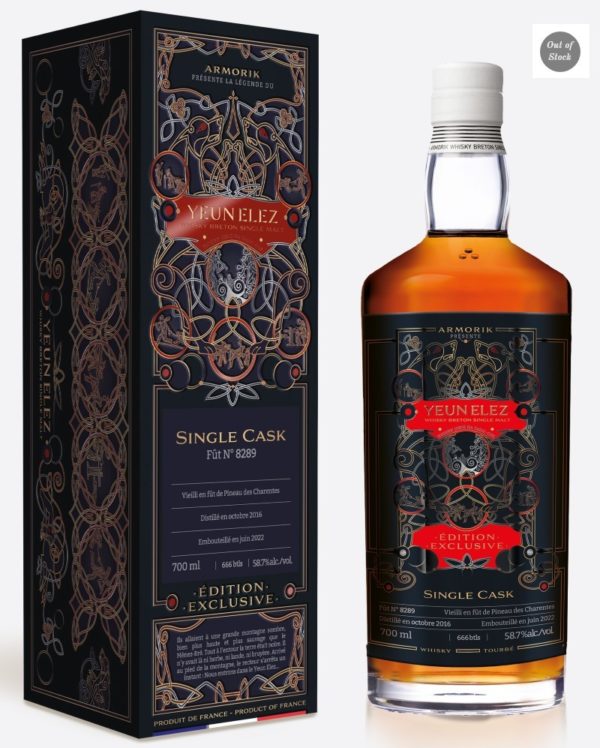 Yeun Elez – Limited Edition Single Cask
58.7% – 70cl
Maturation :Pineau des Charentes Cask
Availability ­: 666 bottles
After the successful launch of our first peated whisky in 2020, we were excited to unveil our innovations in this whisky range.
For experimental purposes, the Yeun Elez peated distillate has been matured in a wide variety of casks, each as different as the other. With this limited edition, Armorik presents you the outcome of an unusual aging process.
This limited edition of our Yeun Elez is a Single Cask from the n°8289 cask. Matured in a Pineau des Charentes cask acquired from the Rémi Landier cognac house, it has been distilled in October 2016 and has rested for more than 5 long years in our Breton warehouses. Bottled at 58.7° cask strength in June 2022, it is limited to 666 bottles.
NOSE
Intense and tasty. At first nose, medicinal flavors on camphor, clove and a minty side come out followed by patisserie and fruity flavors on custard financier and peach. As the peat fades, it gives way to pepper and a hint of Cognac, with a slightly herbal and woody notes.
PALATE
Freshness and sweetness despite the high degree! The palate tends on caramel candy and honey, accompanied by a very elegant smokiness, a little more on wood fire than on medicinal. Very fruity aromas of pear and peach follow.
FINISH
Exceptionally long, the finish evolves on wood-roasted banana.