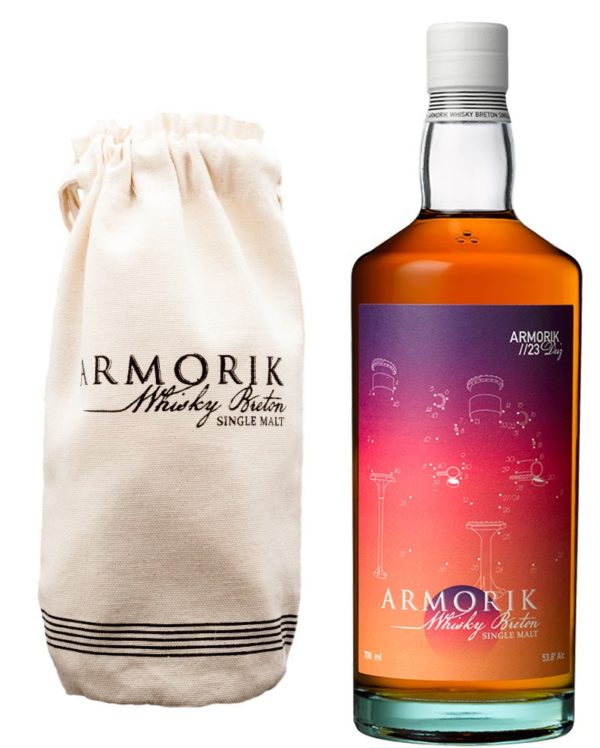 Single Cask Armorik Deiz 2023
53,8% – 70cl
Maturation : Pedro Ximénez  Cask
Availability ­: 331 bottles
To celebrate the anniversary of our distillery, our team organizes the Armorik Deiz, a 100% Armorik event over 3 days. With a rich and varied program, we wanted to pay tribute to our history, our Breton culture and our territory. On this occasion we are launching a unique bottling, from the finest barrels in our cellars. From cask n°3554, this Single Cask, cask strength whisky has aged for 10 years in a Pedro Ximenez cask, and has a strength of 53.8%. This year, the design of the label was entrusted to a local artist: Edern Olivier-Jegat.
NOSE
Gourmet and spicy, it evolves between sweetness, caramel, slight hint of vanilla, and spices, pepper, gingerbread. Aromas of raisins complete the nose.
PALATE
On the palate, this Single Cask is rich and enveloping. Baked apples, candied bananas, enhanced with beeswax. On the finish, a hint of pepper and a slight smoke spice up this sweetness.
FINISH
Long, notes of propolis stretch languidly coated in smoke.