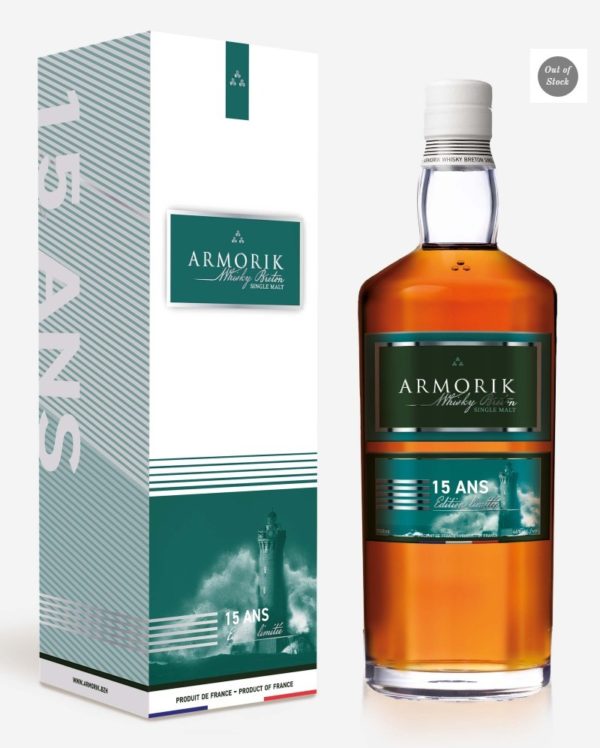 Armorik 15 Ans – edition 2022
46% – 70cl
Maturation : 15 years (9 years in Bourbon casks and 6 years in Sherry casks)
Availability ­: Limited edition – 730 bottles
A few years after the launch of our Armorik 10 yo, the distillery reveals a little more the extent of the possibilities offered by the several thousand casks stored in Lannion. Being the first 15 years old French Whisky and proposed in a limited edition of 1500 bottles each year, this Armorik 15 yo becomes the 2nd bottling of our range with an age statement. It attests to our expertise and know-how about maturation, for over 20 years.
Bottled at 46%, this Armorik 15 years old has been matured for 9 years in Bourbon casks and transferred to Sherry Oloroso casks for 6 more years. "Armorik 15 years old has acquired with age a sort of elegant, aromatic fullness, while retaining the fruity freshness characteristic of our distillate."
NOSE
Rich and intense, the nose tends towards ripe exotic fruits (mango and passion). The maturity stands out with aromas of rancio and varnished wood. Sweet notes follow, with peach, honey, caramel and dried apricot. The whole ends on cumin and a fine touch of peat.
PALATE
Sharp and sweet, the palate starts on fresh fruit (ripe pear, banana) and evolves towards a sweet touch of honeyed candy and exotic fruit. The fruitiness is enhanced by peppery and spicy notes of clove and cinnamon.
FINISH
Long and warm, the finish swings between spicy and slightly smoky notes. It ends on a sweet note of peach jam.