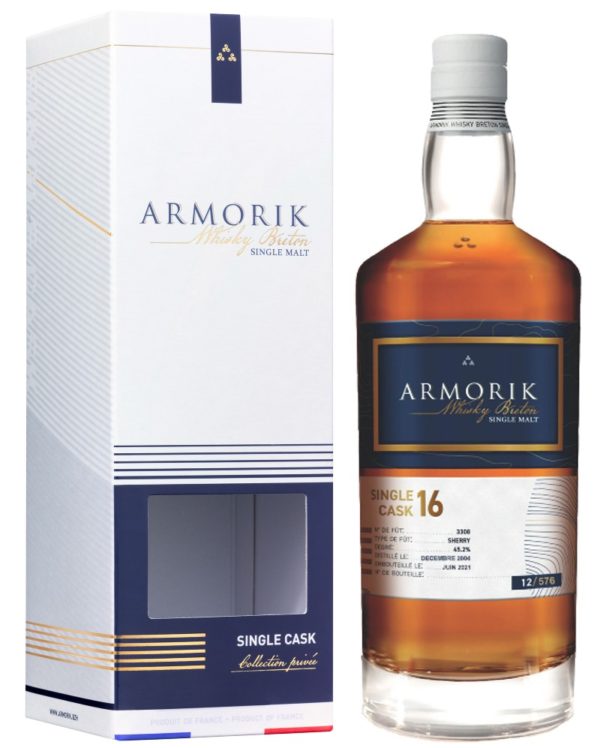 Armorik Single Cask 16 Ans
45,2% – 70cl
Maturation : Matured in Sherry casks
Availability ­: Limited edition – 576 bottles
Armorik Single Cask 16 years old is the oldest whisky ever released by the distillery. Drawn from cask n°3308, it was kept in bourbon casks (December 2004 to August 2008) and then briefly in breton oak casks (August 2008 to October 2008), before maturing for 12 long years in Sherry casks in the silence and darkness of our cellars.
With this Armorik Single Cask 16 years old, one of the oldest casks of the distillery, we wish to share with you a moment of the distillery's history. To celebrate the uniqueness of the oldest whisky bottled by the distillery, each bottle is numbered and adorned with a unique label reminiscent of the oak aging rings.
NOSE

Rich and powerful. The age reveals itself on the nose (old brandy, woody). Notes of exotic fruits develop underlined by a touch of lavender. With time, the fruitiness of a ripe melon, coated with resinous honey. A light, thin touch of smoke completes the whole.
PALATE

The palate is syrupy. The fruitiness of mango and flamed banana is followed by notes of waxed parquet. An intense orange marmalade stands out in the background.
FINISH

The finish is long. Smoky notes are back and mingle with honey candy.